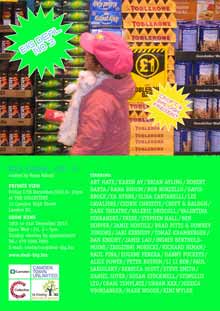 Lo staff di MrPaloma oggi vuole sponsorizzare un'artista: Elisa Cantarelli

Dear artists, friends and associates...
You are Cordially invited to a
2nd Anniversary Xmass Opening > BIG DEAL NO3 !!!
on Friday 17th
December 2010 from 6 PM - 10 PM
at THE COLLECTIVE 15 Camden High
Street London N1
WISHING YOU A VERY HAPPY XMASS
Croft & Balogh

BIG DEAL NO 3

Curated by Vanya Balogh
In association with CAMDEN TOWN UNLIMITED

December 2010
At The Collective, London
Particitpating artists:
Art Hate, Karen Ay, Brian Ayling, Robert Barta, Rana Begum, Bob Borzello, David Brock, EA Byrne, Elisa Cantarelli, Lee Cavaliere, Cedric Christie, Croft & Balogh, Dark Theatre, Valerie Driscoll, Valentina Ferrandes, FREEE, Stephen Hall, Ben Hopper & 333 bracket, Jamie Hostile, Brad Pitts & Downey Juniors, Jari Kennedy, Tomaž Kramberger, Dan Knight, Jamie Lau, Ingrid Berthon-Moine, Zbigzibni Morecki, Richard Niman, Raul Pina, Alice Power, Danny Pockets, Eugene Perera, Thomas Qualmann, Peter Roston, Li Li Ren, Paul Sakoilsky, Rebecca Scott, Steve Smith, Susan Stockwell, Daniel Soyer, STIMULUS LTD, Craig Template, Urban XXX, Jessica Voorsanger, Mark Woods, Kimi Wylde

Per maggiori informazioni seguire il link ElisaCantarelli oppure BIG DEAL NO 3
Aiuta MrPaloma.com a crescere, utilizza uno dei seguenti link per iscriverti a qualche sito così che noi possiamo ricevere un omaggio.
Coinbase
Fai di più con le
criptovalute
usando Coinbase Wallet. Conserva la tua criptovaluta nel tuo portafoglio
coinbase.com
.
Plutus
Ricevi uno sconto del 100% in PLU su tutti i vantaggi basati su abbonamento.
plutus.it
.
Ricordiamo che in qualità di Affiliato Amazon riceviamo un guadagno dagli acquisti idonei.